January 16, 2009
Finally. At last! [insert similar phrase of own choosing here] … It's done!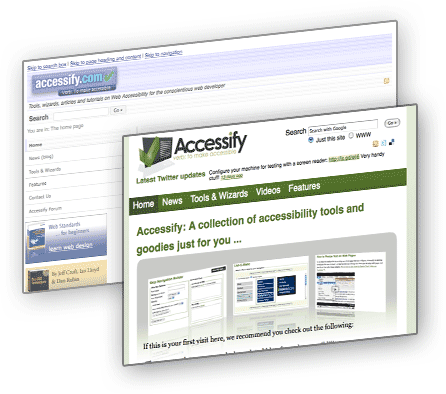 It's taken me an absolute age to get this thing live and, if I'm completely honest with myself - and anyone else who happens to be reading this now - I'm still not totally happy with the end result. You see, I'm not much of a designer, and cannot help but criticise my own efforts (and I sure as hell know that others will want to take a shot at the 'design' of this). But hey-ho, one has to know his own limits!
I've needed to take a look at this site for so long but unlike many of my peers, I don't actually live and breathe web development and (despite what my wife may claim!) I don't spend all of my free time on the computer. The truth is, I usually have something like a 30-minute to 1-hour window of opportunity late in the evening to really concentrate on this kind of thing, when everyone and every animal is asleep. But by that time I'm tired too. And that, my friends, is why it's taken me years to get around to giving the site a facelift!
So, what's new?
Apart from the obvious visual changes, I've done the following:
Added some new tools and updated some older ones:
Updated the blog template
Added some new screencasts/videos
Tidied up JavaScript on the site (unobtrusive, jQuery based)
Used JavaScript to add in some other site features (e.g. ARIA landmark attributes)
There's also been a lot of pruning of useless functionality (style sheet preferences, anyone?)
What's still to do?
Well, the accessibility videos section is sparse. I am going to add to that in coming months - both videos created by myself and third party videos/screen casts
A Wiki - it's structurally there but needs more work from some other parties (you know who you are, and I'll be in touch soon!)
Some new content! Yes, the site is still there largely for the purposes of holding the tools, but in these days of micro blogging, perhaps it's time to buck the trend and do some fuller postings? With a site that I'm happier to work with, this is far more likely to happen!
Fix some validation issues on the blog - little niggles really
Oh, and some new tools … either as I think of them or as people ask for them (and assuming that I can build them!)
I hope that visitors to the site like the change and find something of use here. I'll really do my best not to let this stagnate from here on in, I promise!